What do I bring to your celebration?
Well first of all you get me personally (DJ Dan) at your wedding or event celebration. With many other DJ companies you get whatever DJ is available and it could be the new guy in training or …….?
I am a passionate, professional, skilled entertainer with a friendly fun loving nature. With over 18 years of DJing & MCing over 700 weddings and events, I have the experience to help you plan and execute a celebration where you and your guests leave saying what a wonderful time they had.
I can help your MC with the flow of your event or I can be your MC. I will be as interactive as you like or just let the music do the talking. I will always bring the best of everything; music, sound system, planning, lights, personality, games, value, and memories to your special day. DJing is my passion. I sincerely love what I do and care about the success of your event. I have the knowledge and experience to engage any crowd and I will make every effort to ensure everybody at your party has a fantastic experience!
This is your day!
Let's make it fun!!!!
I cannot count the number of times brides and grooms have said how glad they were that they chose Let's Dance DJ Services.
For more on what my clients have had to say please visit our Customer Feedback Page.
I am trustworthy and reliable, in 18 years I have never missed a gig.
You can count on me in every way.
Note: I have many connections with other DJ companies and in the unlikely event that I cannot make it to your celebration I will find a suitable replacement. Guaranteed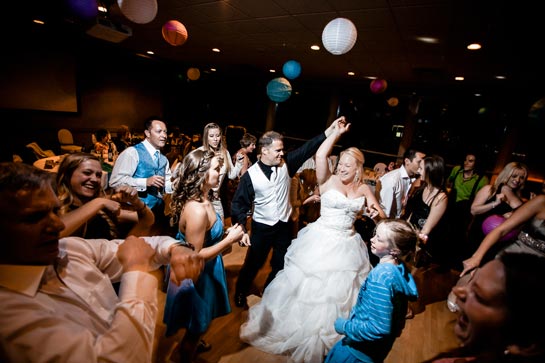 Krista & Ryan's Wedding.  Photo by: lookingglassphoto.ca
Quotes form Krista & Ryan's wedding…
Quote – Krista (Bride) "I loved the music at our Ceremony I loved the music at our reception just an awesome job thank you so much Dan"
Quote- Krista's Uncle Rob (MC and former DJ) "The tunes flowed like magic fabulous it has been so much fun"
Quote -The staff at Galager's "That was a great wedding high energy you did a great job of keeping them going"
I'm DJ Dan – a very popular Kelowna wedding DJ. I have worked around the Okanagan on more than a thousand incredible weddings. What a great choice you have made to get married in the Okanagan. You can't go wrong getting married in Kelowna and I know I can make your special day the ultimate success. I play great music for perfect weddings at luxury Kelowna hotels and other wonderful kelowna wedding venues.
I have had the privilege of serving amazing couples from around the world who have counted on me as a Kelowna wedding DJ for incredible weddings at renown venues such as The Cove, Sparkling Hills,  Mission Hills and other fantastic wineries and locations around the Okanagan.
I know you want the best possible Kelowna wedding DJ at the best possible price without sacrificing an ounce quality. I hope you will find after reviewing our pricing, experience, reviews and services that we are one of the best Kelowna wedding DJs working in the Okanagan. If I can answer any questions whatsoever please contact me at letsdance@shaw.ca or text or call me at +1 (250) 212-2237. I would love to hear from you.